Buscar por Storage Capacity
Ofertas por tiempo limitado
About Apple iPhone XR
Powerful LCD.

The iPhone XR has Liquid Retina, color management, a six-channel light sensor that subtly adjusts the white balance onscreen, and water resistance up to a meter for 30 minutes.

No other phone is like iPhone.

Enjoy the features of iPhone like the powerful A12 Bionic processor, with FaceID, Apple Pay, and multiple apps and functions.

iPhone is built to be used. And reused.

iPhone is made with exceptional materials, like surgical-grade stainless steel, aerospace-grade aluminum, and the most durable glass in the industry. As a result, iPhone lasts long and maintains its value.
eBay has provided more information about this product above and is not affiliated with or endorsed by Apple.
Price Trends
Apple iPhone XR - Price New and Used
New Price*
from $584 to $671
Used Price*
from $467 to $547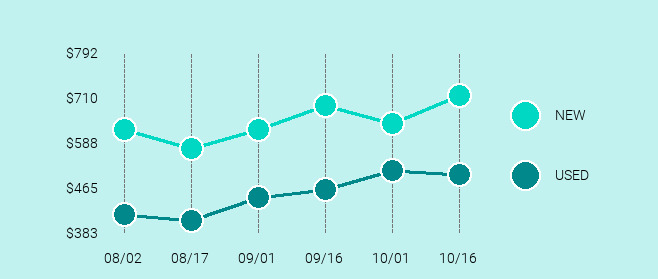 *The average sold price is calculated based on "Buy It Now" items sold within the 90 day period described above (excluding shipping and handling). Each interval represents a 15 day period. There is no guarantee that items will always be listed at a price within the provided range.
Compare Similar Models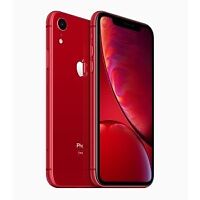 Apple iPhone XR
Display Resolution
828x1792
Operating System
iOS 12, upgradeable to 12.1
Camera (Rear/Front)
12/7 MP
Dimensions
5.94 x 2.98 x 0.33 inches
Internal Memory
64/128/256 GB
Processor
Hexa-core 2.5 GHz
Battery Capacity
Up to 25 hours 3G talk time (2942 mAh)
Apple iPhone X

Display Resolution

1125x2436

Operating System

iOS 11.1.1, upgradeable to 12.1

Camera (Rear/Front)

12+12 dual/7 MP

Dimensions

5.65 x 2.79 x 0.3 inches

Processor

Hexa-core 2.39 GHz

Battery Capacity

Up to 21 hours 3G talk time (2716 mAh)

Apple iPhone XS

Display Resolution

1125x2436

Operating System

iOS 12, upgradeable to 12.1

Camera (Rear/Front)

12+12 dual/7 MP

Dimensions

5.65 x 2.79 x 0.3 inchess

Internal Memory

64/256/512 GB

Processor

Hexa-core 2.5 GHz

Battery Capacity

Up to 20 hours 3G talk time (2658 mAh)

OnePlus 6

Display Resolution

1080x2280

Operating System

Android 8.1 Oreo, upgradeable to 9.0 Pie

Camera (Rear/Front)

16+20 dual/16 MP

Dimensions

6.13 x 2.97 x 0.31 inches

Internal Memory

64/128/256 GB

Processor

Octa-core 2.8 GHz

Battery Capacity

Up to 27 hours 3G talk time (3300 mAh)

Samsung Galaxy S9

Display Resolution

1440x2960

Operating System

Android 8.0 Oreo

Camera (Rear/Front)

12/8 MP

Dimensions

5.81 x 2.7 x 0.33 inches

Internal Memory

64/128/256 GB

Processor

Octa-core 2.8 GHz

Battery Capacity

Up to 22 hours 3G talk time (3000 mAh)
Top 10 High ratings
Top 2 Low ratings
Lower End, but Worth the Money

Apple never fails to deliver a high-quality product and iPhone XR surely is another one of them. Its overall size is slightly larger than that of the iPhone X/Xs, which makes it a comfortable size for reading and yet it fits perfectly in all pockets. I didn't think I would need an iPhone XS Max as its bulkiness and large size makes it a burden for me to carry in my pocket with the risk of losing it. iPhone XR has the perfect size and despite having a single camera lens, the quality of pictures is nevertheless fabulously stunning in naked eyes.

Verified purchase: Yes

Love Love Love This Iphone!

Love Iphone XR! I upgraded from iphone 7 plus 128g to iphone xr 256g. The camera seems to take much clearer pictures and the speed seems faster to me. The size is actually the same but the weight is lighter, but not having a button was something to get use to. I do miss not having a button and ID touch. Face ID is ok but you must turn the screen away once you sign out of app otherwise the app wil re-open because Face ID captures immediately. Other than that I love the phone.

Verified purchase: Yes

A good deal.

I am not very knowlegeble about iPhones but from every indication this phone is in excellent condition. No surface imperfections. It appears to be loading everything properly. I feel confident with this purchase. The price was excellent. If you are not a huge cell phone user and do not want to pay $1000 plus for the latest models this phone is a good choice. I bought it to replace my old phone of the same model which developed a microphone problem.

Verified purchase: Yes

Problems connecting to Sprint Network.

We are having lots of problems trying to connect it to the Sprint Network. We are trying different solutions to solve the problem. If it does not work out within the next 2 days, we will be returning it. We bought this product as unlocked, but it had an ATT sim Card in it, we had to purchase a Sprint Sim for XR.

Verified purchase: Yes

Best "Bang For Buck I phone XR"

This open box I phone xr I bought is perfect in every Way, including how easy it was to copy my I phone SE back up and transfer it,very easy. Watch all the reviews on the tube and you will see that this is the best I phone of all of them.

Verified purchase: Yes

red iphone xr 128gb

The iphone xr is beautiful, especially the red color! The liquid retina lcd display is sharp and the battery life is very strong. This iphone is $250 cheaper than the iphone xs, and I saved even more on eBay. Definitely one of the best upgrade choices I have made.

Verified purchase: Yes

Easy, smooth set-up. Data transfer from your old Iphone amazingly simple.

Moving everything over from my existing I-phone 6 went amazingly smooth. It basically did everything itself wirelessly with me just needing to answer a couple prompts. The speed is great so far. A lot faster than my 6. Haven't had time to check out the cameras yet.

Verified purchase: Yes

Recommend to everyone to have it.

I like it because it is easy to use and size of it is very convenient. Its fast and easy to operate. I really love my phone. I will highly recommend it to everyone to buy it

Verified purchase: Yes

Great Phone

I like the XR its the right size, slightly larger screen than iPhone XS or 11. Previous phone was a 6, and it was too small to watch video. Got an iwatch to go with it.

Verified purchase: Yes

Greatest phone I ever had!

I was amazed how perfect this phone was, box was original, came with headphones and charger with cord! Phone was easy to set up and sound quality is outstanding! By far my favorite I phone!

Verified purchase: Yes