About Sony Xperia Z3
Showing slide {CURRENT_SLIDE} of {TOTAL_SLIDES}
Demand great.

Details make the difference between good and great.

Premium design and the highest waterproof rating.

Xperia Z3 has a high waterproof rating, so you can find your way in a downpour, take pictures underwater, or just wipe off an unexpected spill.

Everything we know about cameras in your hand.

Years of Sony camera expertise have been brought to Xperia Z3, a premium phone with Cyber-shot and Handycam technologies. Capture the laughter in any light, shoot steady videos on the move, and take crisp shots underwater.

Live smarter with SmartWear.

SmartWear helps you stay on top of the moments that matter. Keep track of the things you love with ease, and control your world as you wish. Have fun, look good, live smart.
eBay has provided more information about this product above and is not affiliated with or endorsed by Sony.
Compare Similar Models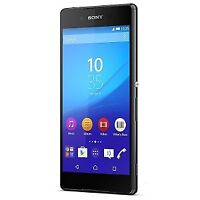 Sony Xperia Z3
Operating System
Android 4.4.4 (KitKat), upgradable to 6.0 (Marshmallow)
Camera
20.7 MP Rear / 2.2 MP Front
Internal Storage
16 GB / 32 GB
Processor
Quad-core 2.5 GHz Krait 400
Dimensions
5.75 x 2.83 x 0.29 in
Showing slide {CURRENT_SLIDE} of {TOTAL_SLIDES}
Top 5 High ratings
Top 5 Low ratings
Awesome Phone for the price

The screen is clear and bright. The processor is fast with very little lag. The rear camera takes quality photos. The phone looks cool. Sound quality is pretty good from the speakers., There are 2 draw-backs; first there is no front flash so you need good lighting to use the camera. Second, The case is all glass which looks wicked, but I dropped my phone and the back cover broke.

Verified purchase: Yes

Even in 2017 this still feels like a flagship handset. The best part about the Xperia z3 is the big bang for the buck!

I really don't know why this handset isn't more popular. Everything it does is soo smooth and fluid like. You can just feel the quality in your hands! Even in today's market it's still a great phone! This is coming from an iPhone user. I spent a great deal of time comparing and shopping for the best bang for my buck. I read and watched many reviews, even ones that compared Xperia z, z2, z3, z3pluse and z5. You just can't get a better water and dust resistive phone for the money.

Verified purchase: Yes

Excellent Phone

I have owned several Sony Xperia products and their excellent product quality has led me to purchase another after my first original Xperia Z was to old to support new software. This Z3 model has fulfilled everything I was hoping for and was in like-new condition. The battery lasts almost two days as advertised back when it came out and performs perfectly. It is also way faster than my original Z model.

Verified purchase: Yes

Excellent cell phone.

I previously owned one given to me as a gift but never worked as was locked,but the Camara was the most amazing I hqd ever used on a cell,and video quality was amazing and the fact that it could record under water, so I was shopping for a cell phone,and ran acros this one and at a excellent price, and described as excellent condition wich make me wonder, Really? Wel it was, not even a eingle scratch, it work flawless, Quick, so clear and 4k video features is awesome im very happy with this purchase. Im still learning to use all the special features of this cell,but I love the simplicity of it,if I needed a amazing camara and a really Good and durable cell I would get this one all over again.i thanks the seler for theyr honest service.thwnk you so much.

Verified purchase: Yes

ring tones

the ring tones and alerts are way too low cant hear them well t all tried all the tones and music not loud enough when I pick one it lets you hear it and it's loud but when you pick it it is half the volume I have look at all ways to make the ringtones volume be all the way up and still no luck other than that I love the phone works Great and long battery life Great camera too Sony and my repair guy have said that this phone is water proof and that's why the sound is muffled a bit but not true when I brouse ringtones and test hear them they are loud so It;s something else that dum's down the ringtone after picking it

Verified purchase: Yes