Diapositiva {CURRENT_SLIDE} de {TOTAL_SLIDES} - Buscar por Red
Buscar por Estado de bloqueo
Diapositiva {CURRENT_SLIDE} de {TOTAL_SLIDES} - Buscar por Estado de bloqueo
About Samsung Galaxy Note 9
Showing slide {CURRENT_SLIDE} of {TOTAL_SLIDES}
Do what can't be done.

Galaxy Note has always put powerful technology in the hands of those who demand more. The Galaxy Note9 surpasses even these high expectations, focusing on what matters most in an always-on, mobile world.

Design.

See even more with our largest Infinity Display ever.

Colors.

Complementing the screen is a monochrome metal frame available in a vibrant set of colors — with a matching or contrasting S Pen to suit your style.

S Pen.

The Note9 comes with a Bluetooth-enabled S Pen.
eBay has provided more information about this product above and is not affiliated with or endorsed by Samsung.
Price Trends
Samsung Galaxy Note9 - Price New and Used
New Price*
from $413 to $735
Used Price*
from $393 to $469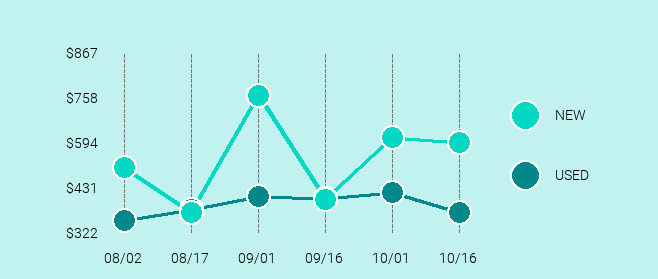 *The average sold price is calculated based on "Buy It Now" items sold within the 90 day period described above (excluding shipping and handling). Each interval represents a 15 day period. There is no guarantee that items will always be listed at a price within the provided range.
Compare Similar Models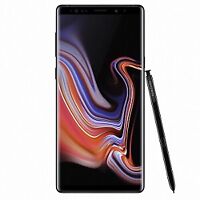 Samsung Galaxy Note 9
Display Resolution
1440x2960
Operating System
Android 8.1 Oreo
Camera (Rear/Front)
12+12 dual/8 MP
Dimensions
6.37 x 3.01 x 0.35 inches
Internal Memory
128/512 GB
Processor
Octa-core 2.8 GHz
Battery Capacity
Up to 28 hours 3G talk time (4000 mAh)
Showing slide {CURRENT_SLIDE} of {TOTAL_SLIDES}
Samsung Galaxy S9+

Display Resolution

1440x2960

Operating System

Android 8.0 Oreo

Camera (Rear/Front)

12+12 dual/8 MP

Dimensions

6.22 x 2.91 x 0.33 inches

Internal Memory

64/128/256 GB

Processor

Octa-core 2.8 GHz

Battery Capacity

Up to 25 hours 3G talk time (3500 mAh)

Google Pixel 2 XL

Display Resolution

1440x2880

Operating System

Android 8.0 Oreo, upgradeable to 9.0 Pie

Camera (Rear/Front)

12.2/8 MP

Dimensions

6.22 x 3.02 x 0.31 inches

Processor

Octa-core 2.35 GHz

Battery Capacity

Up to 27 hours 3G talk time (3520 mAh)

Apple iPhone XS Max

Display Resolution

1242x2688

Operating System

iOS 12, upgradeable to 12.1

Camera (Rear/Front)

12+12 dual/7 MP

Dimensions

6.2 x 3.05 x 0.3 inches

Internal Memory

64/256/512 GB

Processor

Hexa-core 2.5 GHz

Battery Capacity

Up to 25 hours 3G talk time (3174 mAh)

OnePlus 6T

Display Resolution

1080x2340

Operating System

Android 9.0 Pie

Camera (Rear/Front)

16+20 dual/16 MP

Dimensions

6.2 x 2.94 x 0.32 inches

Internal Memory

128/256 GB

Processor

Octa-core 2.8 GHz

Battery Capacity

Up to 29 hours 3G talk time (3700 mAh)
Love the Note 9

I love the note 9. If you like big screens with the best display possible, this product won't disappoint you. Use a good case though, front and back is glass and phone is kinda hard to handle, given the size factor. The sound quality is the best with Dolby Atmos and dual-speakers. Best picture quality and in terms of speed, there is no other better phones. LOVE IT!!

Verified purchase: Yes

Best phone in the market

Great phone, quick response. Good size and handling; good new features, the camera is in my opinion one of the best. The screen is excellent, very sharp. The battery after 12 has of light use; checking mail and texts a few times, 2 phone calls, going into the web about 3 times for 5 minutes each time aproximately, etc., still has 70% of juice. Happy with this product.

Verified purchase: Yes

I love how fast it processes and the storage capacity is incredible

I love how fast it processes and the storage capacity is incredible

Verified purchase: Yes

The phone Beautiful and perfect running I love and like it .

The phone Beautiful and perfect running I love and like it .

Verified purchase: Yes

The BEST from Samsung

I love the Galaxy Note 9, all features and performance are beyond my expectations, Ver fast with Octa core processor and 6gb Ram is one of the best phone right know in the market, , Thanks Samsung for making this piece of Art

Verified purchase: Yes