97 - 144 de 1.146 resultados
About Samsung Galaxy Note8
Showing slide {CURRENT_SLIDE} of {TOTAL_SLIDES}
Say it your way.

With the powerful built-in S Pen, take notes without unlocking your screen, handwrite messages, and make GIFs. Designed to write and feel more like a real pen, it gives you precise control over everything on your phone.

Shoot like a pro.

Whether you're shooting in the dark or from a distance, photos are clear less blurry on the world's first Dual Camera with Optical Image Stabilization on both lenses. Switch to Pro Mode for all the options you'd expect from a DSLR.

Catch every detail.

The Mobile HDR Premium-certified Super AMOLED display gives you a cinema-quality screen in your hands.

Do bigger things on the go.

With water and dust resistance, coupled with wireless charging and the ability to use your Galaxy Note8 as a computer via DeX, it's never been easier to get things done almost anywhere.
eBay has provided more information about this product above and is not affiliated with or endorsed by Samsung.
Price Trends
Samsung Galaxy Note8 - Price New and Used
New Price*
from $408 to $544
Used Price*
from $226 to $342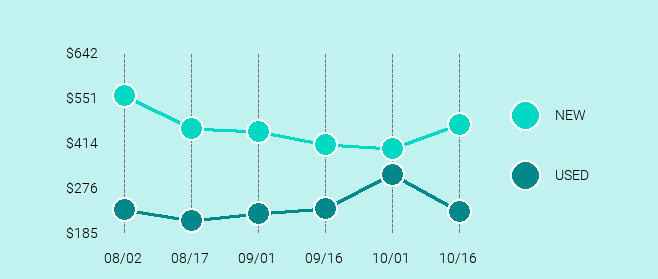 *The average sold price is calculated based on "Buy It Now" items sold within the 90 day period described above (excluding shipping and handling). Each interval represents a 15 day period. There is no guarantee that items will always be listed at a price within the provided range.
Compare Similar Models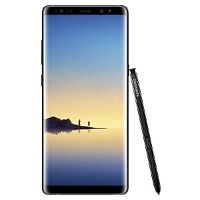 Samsung Galaxy Note 8
Operating System
Android 7.1.1 Grace UI Nougat
Camera
12 MP and 12 MP Rear / 8 MP Front
Display Technology
Super AMOLED
Chipset
8895 SAMSUNG Exynos
Dimensions
6.40 x 2.94 x 0.34 in
Showing slide {CURRENT_SLIDE} of {TOTAL_SLIDES}
Samsung Galaxy Mega

Operating System

Android 4.2 (Jelly Bean)

Camera

8 MP Rear / 1.9 MP Front

Chipset

Qualcomm Snapdragon 400

Dimensions

6.59 x 3.46 x 0.31 in

Samsung Galaxy S II

Operating System

Android 2.3.4 (Gingerbread), 4.0.4 (Ice Cream Sandwich), upgradable to 4.1 (Jelly Bean)

Camera

8 MP Rear / 2 MP Front

Display Technology

Super AMOLED Plus

Dimensions

4.93 x 2.60 x 0.33 in

Samsung Galaxy S III

Operating System

Android 4.3 Jelly Bean

Camera

8 MP Rear / 1.9 MP Front

Display Technology

Super AMOLED

Chipset

SAMSUNG Exynos 4412

Dimensions

5.38 x 2.78 x 0.34
Top 5 High ratings
Top 5 Low ratings
Love the Big Screen, Stylus Option, Speed & Versatility!

Previously used a Samsung Note 3, then S3 then S7 (while husband used S4-S6). Then tried the LG V30+ since I wanted the larger screen. Ended up gifting it and bought a used S8+ and Note 8. Do not like the curved edge of the S8+; absolutely love the Note 8!! The S-pen adds so many options; it's faster and packed with lots of awesome features!, In addition to the fingerprint, facial recognition and iris scan, it also has "Device Maintenance" so you don't need a separate "Task Kilker" or "Optimizer.", One of the advertised benefits of the Note 9 is the ability to take pics/selfies w the S-pen. Found out recently that you can set the Note 8 to take a selfie by having your palm out in front of the camera. Once the camera registers your palm signal (by showing a square on the screen), you have 2-3 secs to pose before the pic is taken. Others likely already know that, but I didn't since I don't usu read user manuals. :) Just an example of a cool feature.

Verified purchase: Yes

Awesome phone.

The Galaxy Note is awesome if you work a job where you constantly find yourself having to take down notes or make lists. As a paralegal I'm constantly having to jot things down and the integrated stylus means I can just pop it out and write naturally as opposed to having to use a tiny keyboard. If you're in a courtroom obviously you can't use speech-to-text, and using the keyboard on your phone just looks like you're texting or something, NOT something you want a judge to see. Instead sitting there using a stylus on your device looks much better for you, and the nature of your handwriting is more conducive to natural thought. Many folks have their own shorthand or use specific symbols when writing and the stylus makes that handy., , Wireless charging is also handy and the "always-on" feature of the screen is great.

Verified purchase: Yes

Galaxy Note 8 seems like a winner

I can't comment on the battery life as the unit is new and the battery life is really good now. Time will tell on that front. I was looking for a large phone (like my Note 3 but this is slightly smaller). I'm wary of the edge technology as I've witnessed lots of damage to these screens (I do construction work) and although I've outfitted the phone with the Otterbox Defender and Otterbox screen protection, I'm not completely comfortable with this screen concept. Time will tell on this front too. , The phone is fast and has tonnes of features (although some are missing that I was very fond of on the Note 3: the easily expanding/contracting font size via the volume buttons AND the great feature on the camera whereby the shutter could be activated by touching the screen anywhere (not just the shutter button). I'm missing these perks. The camera is considerably better and faster and the fingerprint sensor security feature is pretty cool. I'm discovering new features every day (that's a big part of the fun with a new device)

Verified purchase: Yes

Samsung Galaxy Note 8

I bought a reconditioned phone. It looked and functions like a brand new phone. It was delivered much earlier than expected., It is a great looking and feeling phone. It has so many options that it is confusing. What is clear is that Samsung's Bixby is not yet ready for prime time. And why should it be compared to Google Voice which has spent years perfecting itself? Microsoft offered me a 'take over' administration of the Note 8 software and screen and I accepted. I also switched to Verizon messages because it allows me a more complex and somewhat better format. I switched from an LG4 H818, which was an unlocked, European version of the LG4. Was a great phone but was brought out before the ability to make and received calls over WiFi was an integral part of the phone. I used AT&T as my carrier. Thus, when I was in the desert, Rancho Mirage, Indio, etc. 4G or Lite reception was terrible. My Version Note 8 works like a charm over WiFi where my LG4 wouldnt function. The Note 8 is terrible in sunlight. Can not read the screen and I need to shade it if I am outside and receive a call. The options are unending, so some of it is just picking the right options and adding the apps that I needed. I had a 128Gb SD card that easily transferred to the Note 8, which I bought with 64 Gb, I use my phone for alot of things, and transferred my 128 GB card without a problem. The Note 8 read the SD card and installed all the apps, music and photos that were on the card to itself., The only drawback Samsung's lack of giving up on Bixby and using Google voice. It would make life so much easier from the start instead of having to switch over to Google and to find that Google voice will not perform many functions when using the phone, which Bixby can do but constantly misinterprets my voice. For an extremely expensive, flagship Samsung phone, after their battery burn up problems, to not give top performance is an extremely bad feature for this phone to lack., B.

Verified purchase: Yes

Best one yet

This is my first "phablet", and it has been a life-changer. First off, it is not as bulky as the other phablet phones out on the market. Easily fits in my pocket, which I did not anticipate. Secondly, i can now store all my notes in one convenient place. I was skeptical on how seamless the writing capability would be, since I've always use pen and paper. But the accuracy and legibility is phenomenal. It has eliminated my need to carry around a note pad or sticky notes, and I can easily record my thoughts on the go rather than struggling to type fast enough., , In addition, Samsung is offering some great promotions just for Note 8 users who sign-up for Samsung Pay (which I highly endorse)., , Great investment, don't hesitate to pull the trigger on getting this one.

Verified purchase: Yes