Buscar por Camera Features
About DJI Phantom 4
Revolutionary materials and enhanced agility.

The Phantom 4's magnesium skeleton reduces weight while maintaining stiffness to minimize vibration. The core design lifts the center of gravity closer to its heart, making it more agile and precise.

Multiple flight modes.

Switching flight modes to meet your needs is easy, whether you are looking for simplicity and intelligent navigation, speed, or smooth cinematic movements.

Fly far for longer.

Fly for 28 minutes, an increase in effective flight time of 25% from the Phantom 3 Professional. Enjoy 3.1mi (5km) of range, with complete control and a live 720p HD view of everything the camera sees.

Sense and avoid.

Front obstacle sensors combine with computer vision and processing to give the Phantom active obstacle avoidance that allows it to react and avoid obstacles in its path.
eBay has provided more information about this product above and is not affiliated with or endorsed by DJI.
Price Trends
DJI Phantom 4 - Price New and Used
New Price*
from $75 to $907
Used Price*
from $196 to $472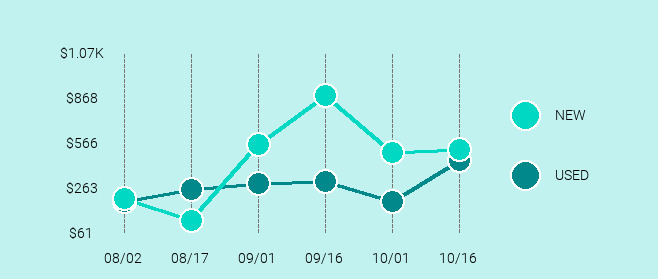 *The average sold price is calculated based on "Buy It Now" items sold within the 90 day period described above (excluding shipping and handling). Each interval represents a 15 day period. There is no guarantee that items will always be listed at a price within the provided range.
Compare Similar Models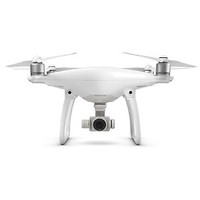 DJI Phantom 4
Camera Type
Interchangeable Camera Drone With Camera
Video
4K@25fps, UHD@30fps, 1080p@120fps
Image Stabilization
3-axis Gimbal
Maximum Video Bitrate
60 MBPs
Top 10 High ratings
Top 1 Low rating
Great Drone but Beware

I am new to the drone world and am very happy with this purchase. The problem comes in with the firmware updates from dji. There is a big issue with interference of the video signals. When I talked to dji they said it was my tablet (Galaxy Tab E) but they can't say that's what's wrong. I know, nice answer. They also told me that the new update can identify incompatible tablets but it doesn't tell u that it's incompatible. I had to put it in manual mode and select the most stable channel and it works for the most part. I only put this out there so people aren't caught off guard like I was. Also you can not switch the frequency bands like you see in a lot of videos. All and all it is a great drone and I am very happy, but there are issues with the Go 4 app and updates.

Verified purchase: Yes

Nice upgrade for me.

I'm not sure if I picked this up as a 3 or 4 year old product, but it is new to me, and a nice upgrade from my old Phantom 3 standard, which was also a great quadcopter. It was advertised as a open box product, which I have to beleive was true, very pleased with the condition of it, as it looked like it was brand new, and was never in the air, which is more than I hoped for as for purchasing one that was not brand new. Other than all that, it flies great, very smooth, it takes great videos, pictures, and has a lot of great features otherwise, very pleased with it overall.

Verified purchase: Yes

Way better than the Phantom Pro 4 Advanced

I previously flew the Phantom 4 Advanced (which I bought new) with a never-ending list of quirks and worries. When it finally fell out of the sky and self-destructed upon impact with the parking lot I bought a used P4P - and could not believe the difference. Range is way better, position hold is much better, feature set from the DJI app is better; this is a stable, trust-worthy drone when compared to the P4A. I just wish I had spent the extra money on the P4P in the first place.

Verified purchase: Yes

Multi function tool in the sky

The P4P has been a long time favorite of the drone community. And with good reason. There are so many uses for this piece of equipment that go far beyond just taking awesome pictures and videos. The level of details you can get in 3D maping and photogramatry of land, buildings, construction sites is unmatched by all other consumer drones. I would gladly recomend the P4P to anyone who is just starting or has been flying for years.

Verified purchase: Yes

DJI Phantom 4, excellent flying camera

DJI drones (actually flying cameras) are the Rolex of the industry. Very well made and will perform excellently if treated well. Almost too many features to learn, and regular updates. The gimbal takes rock steady pictures even in wind or moving. The lens on the 4 does not create the horrible curved horizon. They pay shipping for service, however any major service will cost more than a new drone, so DO NOT CRASH.

Verified purchase: Yes

My first drone

Pro's Easy to set up and fly Very stable Great pictures & Video Built sturdy Con's Takes only certain note pads, iPhones, etc to see camera. App is very picky Battery time is maybe 20 min. Battery's are expensive This is a great unit, Easy to fly, This is my first Drone, just take your time to get used to controls etc.

Verified purchase: Yes

Great learning drone

A great drone for learning to fly drones. It will still take a lot of practice and watching you tube videos. I recommend it mainly because if you get the drone in trouble, you just take your hands off the controls and the drone will pretty much stay where it is.

Verified purchase: Yes

Nice drone. Upgrade to Phantom 3 and great flyer

This unit is an upgrade from my Phantom 3. This unit is a little less noisy, flight is a little smoother and all in all a very nice drone. Great controls and a good price with the 3 batteries. Would recommend this drone for experience and novice flyers alike.

Verified purchase: Yes

Finally bought another Phantom

After my initial experience with the Phantom 1.1, for the past two years, I have been building my own drones - with great success. Then I decided to try another Phantom - the Phantom 3. DJI has come a long way. The Phantom 3 4K is an excellent system.

Verified purchase: Yes

DJI has done a great job

The Phantom 4 is full of so many improvements and enhanced features. It has to be the easiest drone to fly yet versatile enough in the hands of a veteran pilot. It is a great improvement and worth upgrading if possible.

Verified purchase: Yes