About DJI Mavic Pro Platinum
Showing slide {CURRENT_SLIDE} of {TOTAL_SLIDES}
Flight ready.

Mavic Pro Platinum features a sleek design and compact body that is both powerful and alluring. An improved 30-minute flight time coupled with 60% noise power reduction is impressive.

Sturdy and silent.

The 8331 propellers give the Mavic Pro Platinum an impressive noise control performance, and the FOC ESC drivers offer sinusoidal current for increased stability.

Feather-light, ready for flight.

Weighing just over 1.5 lbs, the Mavic Pro Platinum drifts smoothly into the air on activation, with a max ascent speed of 16.4 ft per second.

Avoid obstacles.

With the ability to detect obstacles at 2 to 95 feet at varying levels of precision, avoid near-misses or collisions while you fly.
eBay has provided more information about this product above and is not affiliated with or endorsed by DJI.
Compare Similar Models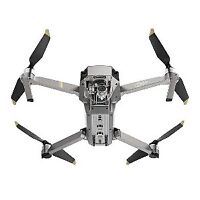 DJI Mavic Pro Platinum
Camera Type
Fixed Camera Drone
Video
4K@24fps, UHD@30fps, 1080p@96fps, 720p@120fps
Image Stabilization
3-axis Gimbal
Maximum Video Bitrate
60 MBPs
Weight
743g (with gimbal cover)
Showing slide {CURRENT_SLIDE} of {TOTAL_SLIDES}
great camera ship

i wanted something small, and quiet..once you hit about 60 feet altitude, you dont know its there, its plenty fast, has a phenomenal camera, nice tracking and video tools... you cannot build a camera ship with all of these features yourself..what i like about it most, is that it just works..every time..great flight time...i love the compactness..i bought the RE goggles as well..really nice combo...this thing has awesome range both video and control.. the obstacle avoidance works extremely well but is not bullet proof..dont rely on technology to save you..you need to learn to fly before you go crazy with it..has really great features .. i just wish it didnt have altitude limitation..and nofly zones...but if it didnt the idiots out there would screw it up even worse than they already have for the rest of us responsible hobbyists

Verified purchase: Yes

Don't let it's small size fool you...

I recently sold two DJI Inspires and purchased the DJI Mavic Pro Platinum. The build quality and fitment is excellent. It's simple, quick and easy to get it up in the air while still producing excellent 4K videos. There are so many excellent features from follow you to obstacle avoidance. The Mavic is stable enough to fly in light winds but so compact, you could easily slide it under the seat on an airplane. The kit came with enough accessories, extra batteries and a small carrying bag. I chose to purchase a slightly larger carrying case so I can take everything with me. I would highly recommend this drone. Having half a dozen other drones (many are DJI products), this one is the probably the best drone they make.

Verified purchase: Yes

A Whole Lot of Fun!

I've only had it out once but it's so much fun I can hardly stand it! There are a ton of features on the aircraft and I have yet to master most of them; something to look forward to. I am also looking forward to taking the drone out on camping and hunting trips to record the various activities. The only problem I have experienced is that two of the three batteries in the Combo kit would not take a charge so I have returned them to DJI for repair or replacement. I am informed that they are now ready to be returned to me. With three batteries I will be ready to go!

Verified purchase: Yes

Less of a commotion

This drone really is much quieter than my P3 or P4 Pro. To be honest, it isn't much louder than my Spark. It makes a lower tone which makes it somehow less noticeable or threatening so you can fly without always feeling like a spectacle or gawkers or people who think you're stealing their soul. Anyhow, it's a great machine. Very happy with it.

Verified purchase: Yes

Super easy to fly with enough features to make you feel like a pro.

This Drone was in perfect condition . The Mavic pro Platinum is extremely easy to fly. The only downside is the charge port on the controller The OTG usb port is extremely fragile. sub par compared to the rest of the unit. That Dji can make such a great Drone but use such a bad usb port is sad.

Verified purchase: Yes