About Bose SoundLink Revolve
Little speaker. Big goosebumps.

Meet SoundLink Revolve, powerful portable Bluetooth speakers that deliver true 360° sound for consistent, uniform coverage. Place it in the center of the room and everyone gets the same experience.

Grab and go.

When it's time to move, you don't want to fumble about. That's why this speaker is grabbable, touchable, and easy to operate—right down to the soft, smooth buttons that ensure every interaction feels natural.

Astonishingly loud. Surprisingly small.

Don't let its size fool you. This pint-sized enclosure is packed with more technology than meets the eye. A highly efficient transducer. Dual-passive radiators. An omnidirectional acoustic deflector.

Sings in the rain.

You're not afraid of a little water. Your speaker shouldn't be either. SoundLink Revolve's water-resistant design means you can use it more places without worrying, such as the pool or by the kitchen sink.
eBay has provided more information about this product above and is not affiliated with or endorsed by Bose.
Price Trends
Bose SoundLink Revolve - Price New and Used
New Price*
from $104 to $173
Used Price*
from $110 to $137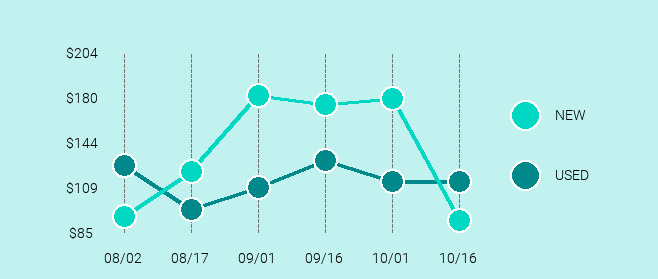 *The average sold price is calculated based on "Buy It Now" items sold within the 90 day period described above (excluding shipping and handling). Each interval represents a 15 day period. There is no guarantee that items will always be listed at a price within the provided range.
Compare Similar Models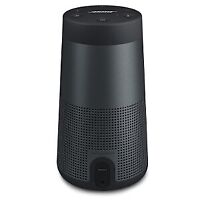 Bose SoundLink Revolve Bluetooth speaker
Dimensions
5.97" H x 3.24" W x 3.24" D
Battery Life
Up to 12 hours
Wireless Range
Up to 30 ft (9 m)
Connectivity Interfaces
Bluetooth, NFC
Inputs/Outputs
3.5 mm AUX, Micro-B USB port
Sound Effects
True360 sound
Bose SoundLink Revolve+ Bluetooth speaker

Dimensions

7.25" H x 4.13" W x 4.13" D

Battery Life

Up to 16 hours

Wireless Range

Up to 30 ft (9 m)

Connectivity Interfaces

Bluetooth, NFC

Inputs/Outputs

3.5 mm AUX, Micro-B USB port

Sound Effects

True360 sound

Bose SoundLink Mini Bluetooth speaker II

Dimensions

2" H x 7.1" W x 2.3" D

Battery Life

Up to 10 hours

Wireless Range

Up to 30 ft (9 m)

Connectivity Interfaces

Bluetooth

Inputs/Outputs

3.5 mm AUX, Micro-B USB port
Superb quality

Another hit scored by Bose,Just as expected, they always exercise the ability of exceeding the expectations. Superior quality of the material with an excellent craftsmanship putting their finished products, super easy to operate and pair with our gadgets, the sound is great if not the best on its class. Well done Bluetooth speaker and very slick and classy beautiful design.

Verified purchase: Yes

Big sound little speaker.

I've had a soundlink color 1 for years and I wanted to upgrade. So I gave it to teen daughter and bought the revolve. Very satisfied considering buying another because with bose app you can run two at a time. Couldn't do that with original model. Can't wait to hear Johnny Cash from two revolves. I'm sure teen daughter will be impressed! Ha-Ha! Seriously though very impressed, as usual Bose hit a home-run. Thanks

Verified purchase: Yes

Full priced Bose Cradle

I think the cradle is a bit pricey but it gets the job done. A plus is that when docked you can still use the UBS data side to play music through the dock. Not only does the cradle charge the device but it also connects to your computer for usb connection audio playback. It's not a pessary accessory and it is expensive for just a cradle but if your looking for convenience and don't mind spending extra, it complements the portable speaker very well.

Verified purchase: Yes

I LUV IT!

This speaker is my new best friend that I take everywhere. When listening to music mainly by lap top or clock radio, I had forgotten how it really feels to enjoy listening and actually hearing all the wonderful sounds of music. I listened to it in a little room, sounds great, bathroom, sounds greater, big giant house, sounded beautiful, outside..., loved it! It was well worth the price to me, and my daughter wants to get one now for showing homes for her real estate job. Now I see what the fuss is over BOSE!!

Verified purchase: Yes

Bose Soundlink Revolve

I have owned several Bose products and have never been disappointed. The Revolve is SUPER easy you use and link to bluetooth. Love the sound and easy to charge. Take wherever you want...it has a 12hour battery life. I loved the 1st one enough that I bough a and to have elsewhere in our home.

Verified purchase: Yes