About Bose SoundLink Color II
Bold sound for wherever life takes you.

The SoundLink Color Bluetooth speaker II is a tough and water-resistant companion for life's great adventures. Featuring a soft silicone exterior and a mic for calls or virtual assistant access, it brings big sound that's easy to pick up and go.

Made with you in mind.

The water-resistant SoundLink Color has a body constructed of durable materials, featuring a rounded and compact shape that fits easily into your bag or backpack. Choose one of four colors: aquatic blue, coral red, polar white or soft black.

Make a connection.

SoundLink Color has a range of about 30 feet so you can enjoy your music out loud and without wires. Voice prompts talk you through Bluetooth pairing, and you can connect to two Bluetooth devices at the same time to switch between them quickly.

Take your music to go.

SoundLink Color lets you play your music wherever you are. At 1.25 pounds, it weighs just a little more than a football. Control multiple functions with the press of a button, and charge it with most USB power sources.
eBay has provided more information about this product above and is not affiliated with or endorsed by Bose.
Price Trends
Bose SoundLink Color II - Price New and Used
New Price*
from $100 to $106
Used Price*
from $75 to $95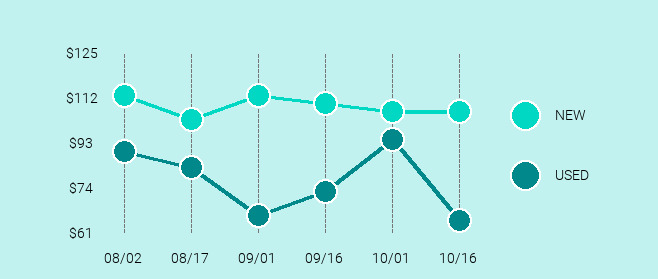 *The average sold price is calculated based on "Buy It Now" items sold within the 90 day period described above (excluding shipping and handling). Each interval represents a 15 day period. There is no guarantee that items will always be listed at a price within the provided range.
Compare Similar Models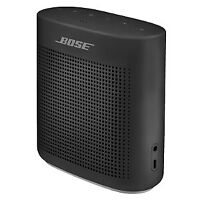 Bose SoundLink Color Bluetooth speaker II
Dimensions
5.25" H x 5" W x 2.25" D
Battery Life
Up to 8 hours
Wireless Range
Up to 30 ft (9 m)
Connectivity Interfaces
Bluetooth 4.2, NFC
Inputs/Outputs
3.5 mm AUX, Micro-B USB port
Bose SoundLink Mini Bluetooth speaker

Dimensions

2.0" H x 7.1" W x 2.3" D

Battery Life

Up to 12 hours

Wireless Range

Up to 30 ft (9 m)

Connectivity Interfaces

Bluetooth

Bose SoundLink Mini Bluetooth speaker II

Dimensions

2" H x 7.1" W x 2.3" D

Battery Life

Up to 10 hours

Wireless Range

Up to 30 ft (9 m)

Connectivity Interfaces

Bluetooth

Inputs/Outputs

3.5 mm AUX, Micro-B USB port

Bose SoundLink Revolve Bluetooth speaker

Dimensions

5.97" H x 3.24" W x 3.24" D

Battery Life

Up to 12 hours

Wireless Range

Up to 30 ft (9 m)

Connectivity Interfaces

Bluetooth, NFC

Inputs/Outputs

3.5 mm AUX, Micro-B USB port
Top 5 High ratings
Top 2 Low ratings
Exceeds all expectations.....

I should preface this by stating "yes, I realize it's a Bose".....but it's still a relatively small portable device that needs to be charged. Well, we live in coastal South Carolina and spend a lot of time on our boat/beach and this thing is exposed to a lot of ambient moisture. Despite sun, humidity and exposure to sea spray on our boat, this thing just pumps out sound all day long. And the sound is truly amazing for a device this small., , Don't hesitate if you're on the fence. Get one of these now before prices go up.

Verified purchase: Yes

I Was Blown Away by the Depth of Sound From This Small Speaker

I bought an iHome Bluetooth speaker about a year ago and was happy with it. I recently visited a family member and they had the Bose SoundLink I. When I first heard the sound I thought it was coming from much larger surround sound speakers. When I saw it was from the Bose SoundLink I was blown away. The rich deep and clear sound of this speaker needs to be heard to be appreciated. Leave it to Bose to coax that much sound from such small speakers. I bought the black unit but the range of colors is nice. I have only had it for about a month now and haven't really kept track of the battery life but it has been more than adequate for my needs as i usually only list to it for 1 to 2 hours at a time. The rubberized housing has a nice feel and it makes it harder to slip out of your hand. There is basically no set-up. It prompts you when you first power it up to select the desired language and Bluetooth pair was a snap. Even at high volume the sound remains clear. There is a port on the back to provide either bass or depth to the sound., , I really can't think of any cons. As others have said the SoundLink II only comes with a USB charging cable and does not provide the AC converter. Anyone who has a smart phone likely has a bunch of AC converters laying around. If not you will need to purchase one separately if you wish to charge it from an AC power source., , I found the SoundLink II brand new and unopened on EBay for $94 so saved $36 compared to retail. However, I would have paid full price if necessary. I recently listened to the SoundLink III and it has even better bass but is also physically larger and more expensive. The SoundLink II is perfect for my needs and I would highly recommend it to anyone.

Verified purchase: Yes

Very good speaker

Im very happy with colour 2 speaker. No negatives really. Cant expect perfect sound from a speaker this size, but for what it is, it is Excellent!!!! Very clear full overall sound. Not tiny or muddy sound at all. Solid, strong clear bass!! Better sound than other speakers I sampled! Easy to link with phone, which lends it to being taken and used a lot wherever I go. Awesome speaker really!!!! I definitely recommend.

Verified purchase: Yes

Big sound

This is my 3 rd Speaker as my friends love it, I end up giving them away! The colors are great but the sound and quality is...well..a Bose. Its perfect fir my pool, patio and just inside the house. The top portion where the on/off, volume is could be designed more clearly but otherwist its a product worth getting. One last thing, the battery lifr really is 10 or more hours.

Verified purchase: Yes

Portable, water resistant, easy set up, great sound!

The Bose name is synonymous with great quality sound and the Soundlink Color II Bluetooth Speaker is no exception. I linked up my speaker with my Amazon Echo Dot and can listen wherever I wander in the house of out on the patio. Convenient and fun!, , I only wish I could link 2 Color IIs together so I can have stereo. Apparently other Bose Bluetooth speakers can.

Verified purchase: Yes